FOR TODAY

Outside my Window...is a cloudy morning, with birds singing happily and an overgrown yard


I am thinking...that I'm so blessed to have a job, no matter how I feel about it.


I am thankful for...a husband who is really, really trying


From the kitchen...we'll have something Mexican, it's Cinco de Mayo!


I am creating...a surprise in my head, and if it occurs, I will have pictures to post!

I am going
...to bake bread today with my new grape sourdough starter. It smells very yeasty, without commercial yeast.
I am wearing
...the green t-shirt that I was wearing in
the food processor green smoothie debacle.


I am reading...Girl Meets God


I am hoping...that a young girl in a crisis pregnancy will make a better choice than I did back then.


I am hearing...The Firecracker Princess sucking her thumb next to me, and the Look Alike breathing hard


Around the house...the living room needs to be seriously worked on, but otherwise we're doing ok. I love clean bathrooms.


One of my favorite things...talking to faraway friends who God brings to mind prophetically in dreams.


A Few Plans For The Rest Of The Week...a run today, Music Man's concert tomorrow (he'll be home late, so I must entertain the kiddos from breakfast until bedtime), a run Wednesday, group Thursday. I think that's about it for this week.

Here is a picture thought I am sharing for you... This is a new variety of tomato I'm growing in my garden this year. I figured it was a better picture than the compost heap. :)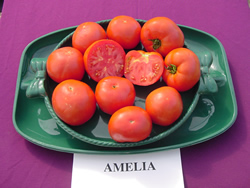 Now that you're hungry for some summer tomatoes, go on over and visit
Peggy at The Simple Woman
!